If you plan a trip to Madrid and have time to look around,  visit Toledo. It is a city with a long history since the Roman times, where  you can find monuments of all Muslim, Jewish and Christian origins.
In Toledo, prepare to enter a magical city that retains an enviable medieval structure. Its enormous attractions make it a tourist city, but a breathtaking one. Here, you can take a variety of routes, whether you are looking for monumental, gastronomic, historical or laid back attractions.
Make sure you take a picture in every spot. Chances are you will find many more details when you look back at the pictures, because Toledo is a work of art.
Declared a World Heritage Site does it has well-ingrained roots of culture and history: it is all mixed times and people, cultures and religions, all styles of monuments, all secular activities are represented here and her visit magnifies the soul, intelligence and culture.
Toledo is an unforgettable experience in many different levels. 
Its geographical position keeps the causes of its long-lived importance. High and surrounded by a natural river, it leaves no doubt of its defensive positioning and monitoring.
An amazing destination
Toledo has been sought after no less than Alexander Dumas, Gautier, Borrow and even Einstein, all looking for the same: The magic of Toledo.
Attractions in Toledo
Complementing the information that you can find useful in Guide books, I'll recommend some places that you cannot miss.
The city invites to stay and savor calmly the plot of its past, its present modernity, which offers numerous possibilities to spend more than a day and still want to return.
Church of San Roman, Museum of Councils and Visigothic Culture
With the Muslim conquest of the Iberian Peninsula, Toledo is invaded and remains in the hands of the Muslims (Moors) until the eleventh century, until Alfonso VI of Leon and Castile reconquer the city. An anecdote stands out above the rest: the legend tells that when the king and his troops entered the city, passing by the mosque we now call De la luz, his horse refused to continue the march. Seeking an explanation for this strange event, they saw a strong light coming from inside the mosque, which came from a buried crucifix.
Mosque of the Christ of Light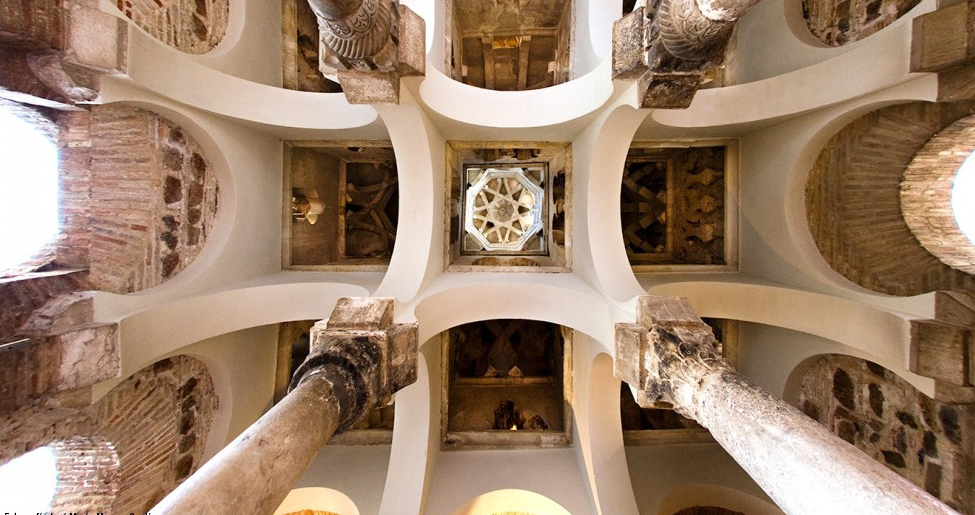 Years passed and Toledo remained an important city. It  lived moments of cultural, social and political splendor in the period in which it is known as the City of Three Cultures, due to the simultaneous coexistence of Christians, Muslims and Jews. That is why today we can enjoy important churches, two mosques and two synagogues in the city.
During the reign of the Catholic Kings, Toledo becomes important once again: Isabel and Fernando order to build the Monastery of San Juan de los Reyes, in honor of the victory in the battle of Toro, where they defeated the Portuguese troops who wanted to conquer the land. If you must know, Portugal and Spain have a long history of feuds due to territory. But well… It seems like they get along much better now.
Chains in the Monastery of San Juan de los Reyes
In the Monastery of San Juan de los Reyes we can also see a set of chains hanging on one of the walls; Are the shackles with which, according to tradition, Muslims held Christian prisoners.
Toledo Cathedral
During the reign of his grandson, Emperor Charles V, the court remains in Toledo, until Felipe II moves it definitively to Madrid. This fact will begin to set a slow and progressive loss of importance of the city. Although it continued to be economically relevant,  it did not enjoy the splendor of the Middle Ages and the early years of the Modern Age.
Alcazar of Toledo
A final fact to emphasize: the Alcázar of Toledo was scene of Spanish Civil War (1936-1939), when it was almost completely destroyed. Thank God, we can now visit it thanks to a meticulous reconstruction.
 Artistic focus: the Toledo of El Greco and the literary Toledo
If someone is attached to Toledo, is the painter Doménikos Theotokopoulos, better known as El Greco. El Greco arrived in the city of Toledo in 1577 after a life in Crete, his native city. After, he had a long stay in Italy, where he outlined his artistic style. In the Toledo convent of Santo Domingo el Antiguo the first contracts signed by the author are conserved. He was asked to do some work for this monastery and church.
The house-museum of El Greco is not the original house of the painter, but recreates how his house was, and you can find some of his work,  like a complete Apostolate.
The bridges of Toledo
The bridge of San Martin, of gothic work, is in the west side of the historical side of Toledo. It was part of the defensive system of the city next to the bridge of Alcántara. It was located on its east side. Built entirely with granite ashlar, it consists of five slightly pointed arches. They stand out due to its size, the central one, with dimensions of forty meters of light and more than twenty-six meters of height above the level of the river. It has two defensive turrets of irregular polygonal plan, crenellated, one at each end.
The Puente de Toledo is a churrigueresque baroque style. It was built between 1718 and 1732 by the architect Pedro de Ribera crossing the Manzanares River.
Previously there were other bridges located in the same place. It is a structure built with granite ashlar that consists of 9 round arches, separated by drums with balconies.
During the Spanish Civil War, two machine gun nests were installed on the bridge of Segovia. They became silent witnesses of the proximity of the battle front.
Convento de Santo Domingo el Antiguo
Hospital of Tavera
.
The magic of Toledo
It will capture AND enchant you, as I said before. Furthermore, it is a city that NEVER gives you enough.



Final considerations:
In conclusion, there will be a LOT to see. But something that is ESPECIALLY relevant and a perfect memento of your trip, is the gold work.
The Damasquino, or "theToledano Gold" is the decorative art based on the inlaying of noble metals such as gold and silver over other more common, such as iron and steel. The authentic Damasquino  is an art made entirely by hand, by the expert hands of our craftsmen, whose knowledge passes from parents to children generation after generation. The process of creating any Damasquino piece is slow and has a lot of work.
You can find earrings, chains, plates… Pretty much anything. And you definitely will not regret it. And I can promise you, this is not an ad for any one company… I simply love the art of these men and women, and I believe it should be celebrated.
There are many other cities in Spain that you MUST visit, but Toledo is one that can take your breath away ANY DAY.
In the end, it's all about the kind of trip you make. Especially noteworthy is that it doesn't matter how far you go, Spain will keep on catching your eye. Yet, not everything is "old", since you will find one of the most AMAZING clubs… And Spanish people are the definition of PARTY ANIMALS! Because I am still waiting for a group of people who is as energetic when going out at night.
Enjoy Spain to the fullest! If you need any more info, visit the Spain section here!